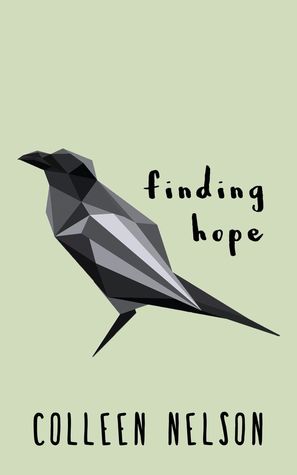 Finding Hope by Colleen Nelson
Published by Dundurn 2016 (E-Book)
Thank you to Dundurn for sending me this book via Netgalley in exchange for an honest review.
Hope lives in a small town with nothing to do and nowhere to go. With a drug addict for a brother, she focuses on the only thing that keeps her sane, writing poetry. To escape, she jumps at the chance to attend Ravenhurst Academy as a boarding student. She'll even put up with the clique-ish Ravens if it means making a fresh start.
At first, Ravenhurst is better than Hope could have dreamed. She has a boyfriend and a cool roommate, and she might finally have found a place she can fit in. But can she trust her online boyfriend? And what can she do after her brother shows up at the school gates, desperate for help, and the Ravens turn on her? Trapped and unsure, Hope realizes that if she wants to save her brother, she has to save herself first.
Thoughts
What drew me to Finding Hope was the fact that it was going to dealing with issues that I hadn't read about in any other book before, and I was really intrigued in seeing how the author dealt with them and how they were portrayed. 
Finding Hope is all about Hope, who gets the chance to attended the acclaimed Ravenhurst Academy as a boarding student. Wanting to escape from her town of Lumsville and her drug addict brother, Eric she jumps at the chance. Things start off well as she makes friends and soon gets an online boyfriend. However, things start to take a turn for the worse as Hope soon finds herself hated by the entire school and Eric is soon turning up at the school gates begging for help.
First things first, this book deals with a few sensitive issues such as drug use, bullying, peer pressure and sexual assault. The way these issues are detailed could trigger some people, but for me as I'm an open minded person I went along with a clear head. Yes, some of the detail is graphic but these are issues that happen in real life everyday, so kudos to the author for bringing these to my attention. 
Be able to read Eric's point of view was rather interesting. It was good to be able to get into his mind and find out what caused him to go down such a dark path. When I finally found out what had happened to him I was shocked, but I also finally understood what had driven him to drugs, meth particularly. I did find myself feeling sorry for him a certain times, and his bond with Storm the puppy make my heart wrench.
I found Hope to be somewhat naive and also slightly stupid, especially with the whole 'online boyfriend' scenario. Why would she send topless photos to someone she had never met before and who she didn't even know was real,is beyond me. I found myself screaming at her when she did that. However, like many issues in this book it happens in real life a lot, which I'm guessing is why the author brought it to our attention.
Finding Hope was a short, quick read that brought a lot of issues to my attention. I did find it slightly predictable at parts. For example; I knew what the situation with Hope's online boyfriend was going to end up like and I did have a slight inkling about how the story was going to end. Despite this, it did keep me interested and I thought the sensitive issues were dealt with in a way that would certainly make people think twice.
Rating