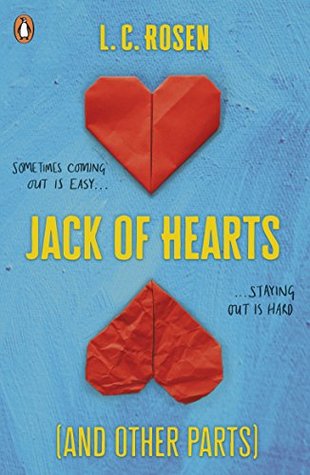 Jack of Hearts (and other parts) by Lev A.C. Rosen
Published By: Penguin Random House Children's
Released: 30th October 2018 (Kindle) & 7th February 2019 (Paperback)
Page Count: 368 Pages
Edition: Kindle ARC
Thank you to the publisher for sending me this book via Netgalley in exchange for an honest review.
My first time getting it in the butt was kind of weird. I think it's going to be weird for everyone's first time, though.
Meet Jack Rothman. He's seventeen and loves partying, makeup and boys – sometimes all at the same time. His sex life makes him 
the 
hot topic for the high school gossip machine. But who cares? Like Jack always says, 'it could be worse'.
He doesn't actually expect that to come true.
But after Jack starts writing an online sex advice column, the mysterious love letters he's been getting take a turn for the creepy. Jack's secret admirer knows everything: where he's hanging out, who he's sleeping with, who his mum is dating. They claim they love Jack, but not his unashamedly queer lifestyle. They need him to curb his sexuality, or they'll force him.
As the pressure mounts, Jack must unmask his stalker before their obsession becomes genuinely dangerous…
Thoughts
Jack Rothman is seventeen and loves partying, make up, boys and sex. His extravagant sex life makes him the hot topic for school gossip. Jack doesn't care about this and lives his life by the mantra 'it could be worse'. When he starts writing an online sex advice column he starts receiving mysterious love letters, that start to turn creepy. His secret admirer knows everything about him; who he's sleeping with, who his mum is dating, where he goes and who he's hanging out with. They claim to love Jack but not his outlandish queer lifestyle. As the letters start getting worse Jack must try to figure out the identity of his stalker before he gets hurt.
I am always on the look out for new LGBTQ+ YA to read, so I knew straight away I wanted to dive into Jack of Hearts (And Other Parts). And oh boy I was certainly not disappointed! It was such a fabulous read that I devoured in less than two days! This is a book that in my opinion is going to mean a lot to teens who are struggling to accept their sexuality. 
This book is very sex positive and because of this there are a lot of scenes that some readers could find uncomfortable? I, however, didn't have any problem with this at all. It is promoting the fact that sex is normal and does happen and that you should be able to do what you want with your body as long as it's safe and consensual. Homosexual sex is not spoken about nearly enough as it should be, especially in YA, so I have huge respect to the author for bringing this to the forefront of our minds. 
Jack of Hearts (And Other Parts) also takes a very interesting look into gay men. Especially how they are viewed by the LGBTQ+ and straight communities. At one point we see Jack call out some straight girls for fetishising him, and that was just great. The book also highlights the struggles some individuals have with coming out, something that I feel a lot of people will be able to relate to.
Jack…ahhh I loved him! I found him to be such a genuine character that could become a role model for many. He was so authentic and well developed. He was confident and comfortable in his own skin and his positivity surrounding sex is something a lot of us could learn. His sassy attitude was amazing and he is certainly one of my favourite LGBT characters in YA.
The plot itself was really interesting and very realistic. Stalking is something that happens a lot in society and it does need to be spoken about more. Jack's reactions to it were perfectly viable and I really did feel for him. The pacing of the story was perfect – I felt like I got everything I needed to know within the 368 pages. The only downside was that I guessed who the stalker was way before the reveal, however it was still done well.
Jack of Hearts (And Other Parts) was an incredible read. It was inspiring, educational, sex positive and well rounded. It is a book that will delight any reader and have you wanting to be best friends with Jack.