As you may have gathered I have decided to take part in Blogmas this year. I a lot of fun doing blogtober back in October that I thought I'd try a similar challenge again! 

As we are well and truly into the season of Christmas I thought for today I would share some of my favourite Christmassy reads. I tend to reread these every year as they just get me in the festive mood.

What festive reads do you like?
An ill-timed storm on Christmas Eve buries the residents of Gracetown under multiple feet of snow and causes quite a bit of chaos. One brave soul ventures out into the storm from her stranded train and sets off a chain of events that will change quite a few lives. Over the next three days one girl takes a risky shortcut with an adorable stranger, three friends set out to win a race to the Waffle House (and the hash brown spoils), and the fate of a teacup pig falls into the hands of a lovesick barista.
A trio of today's bestselling authors – John Green, Maureen Johnson, and Lauren Myracle – bring all the magic of the holidays to life in three hilarious and charming interconnected tales of love, romance, and kisses that will steal your breath away.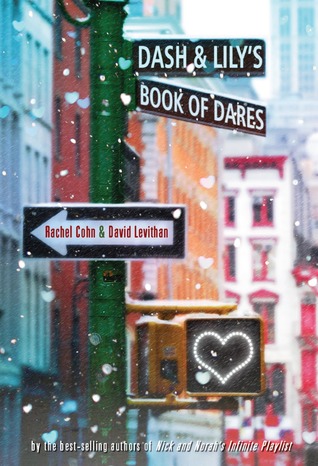 "I've left some clues for you.
If you want them, turn the page.
If you don't, put the book back on the shelf, please."
So begins the latest whirlwind romance from the bestselling authors of 
Nick & Norah's Infinite Playlist
. Lily has left a red notebook full of challenges on a favorite bookstore shelf, waiting for just the right guy to come along and accept its dares. But is Dash that right guy? Or are Dash and Lily only destined to trade dares, dreams, and desires in the notebook they pass back and forth at locations across New York? Could their in-person selves possibly connect as well as their notebook versions? Or will they be a comic mismatch of disastrous proportions?
Rachel Cohn and David Levithan have written a love story that will have readers perusing bookstore shelves, looking and longing for a love (and a red notebook) of their own. 
On the first day of Christmas, my true love gave to me …This beautiful collection features twelve gorgeously romantic stories set during the festive period, by some of the most talented and exciting YA authors writing today. The stories are filled with the magic of first love and the magic of the holidays.
The UK's top Young Adult authors join together in this collection of new stories and poems on the theme of home.

Contributors include: Tom Becker, Holly Bourne, Sita Brahmachari, Kevin Brooks, Melvin Burgess, Katy Cannon , Cat Clarke, Juno Dawson, Julie Mayhew, Non Pratt, Marcus Sedgwick, Lisa Williamson and Benjamin Zephaniah.

£1 from the sale of every book will be donated to Crisis, the national homelessness charity.
From sleigh bells to wedding bells . . .
After a rocky start, Ellie Hall baked her way into everyone's hearts at Claverham Castle – even the miserly Lord Henry was won over – and the run-down teashop regained its old sparkle.
Now Ellie has upgraded cupcakes for fairytale masterpieces as the proud caterer for an ever-growing list of weddings at the castle. The teashop team love baking to the tune of happy ever afters, but can they pull together when a certain bridezilla pushes them all to boiling point?
Christmas is just around the corner, and a last minute booking threatens to snow the team under. Ellie and her hunky hubby Joe have their own Christmas dreams to chase, but they're determined to pull through and give this special couple the winter wonderland wedding they deserve.
Will Christmas at the Cosy Teashop be a showstopper to remember?
Evie Taylor, a girl with a big heart, gets lost in the big city. For the past two years, Evie has lived an invisible life in London. Her neighbours think she's just moved in, her sister mistakes her for a live-in nanny, and even Evie's manager at work can't remember her name. But all that is about to change …this Christmas has brought a flurry of snow and unimaginable possibilities into town. Evie works in the stockroom of an old-fashioned, family-run, London fashion department store. Hardy's is a beautiful, wood-panelled jewellery box of a building, but it's in dire need of a makeover. One day Evie overhears that if the entire store's takings don't turn round by Dec 26th – 3 weeks' time – the family who own it will be forced to sell to one of the big chains. Hardy's is in need of a Christmas miracle. Determined to save her beloved store, Evie hatches a plan to secretly transform it into a magical place to shop again. But has the time come for her to be noticed too? When an accidental romantic encounter with handsome, enigmatic Joel gives her the chance of a whole new identity, she takes it.