Over the Easter weekend I took part in the Easter Readathon hosted by Kate at 
Reading Through Infinity.
This was my first ever readathon and as I had a lot of free time over that weekend I was sure I was going to be able to read a few books. 
Before the event I posted my TBR of what I wanted to read, which included books for the extra challenges that we could decide to take part in. I completed seven out of the eight challenges and was pretty pleased with this!
Overall, I managed to read four books within the time period we had and I was so chuffed with myself. I did originally want to read five but I ran out of time on the last day.
The books that I read were..
The Boy at the Back of the Class by Onjali Q. Rauf
I was really excited to read The Boy at the Back of the Class after all the hype it had been getting after winning the Waterstones Children's Book Prize. I must tell you that this book certainly lived up to my expectations. It was INCREDIBLE! It was moving, emotional, heart warming and had me welling up many times. The message it conveyed was one of pure importance and needs to be spoken about more. Since reading it I have been pushing it onto the children at work.
The Skylarks' War by Hilary McKay
The Skylarks' War was another book that I was looking forward to reading after hearing many good things about it. It didn't disappoint, let me tell you that. It was a beautifully written, truly moving piece of fiction. The setting within the story captivated me and the element of WW1 was something that had me wanting to read on. A gorgeous piece of Historical MG fiction.
Summer Bird Blue by Akemi Dawn Bowman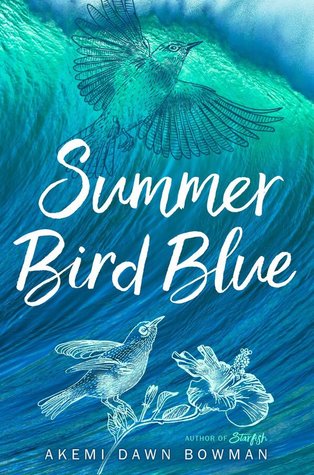 Summer Bird Blue was an emotional, heart wrenching read all about grief, loss and finding you way through it. It's written in such an evocative, powerful way that you will find yourself wanting to hug your loved ones tight. However, it is very much a character driven novel and as someone who enjoys plot driven novels more I did find the lack of plot stirred up my boredom slightly. I need a good plot to stick my teeth into and this was lacking somewhat.
Swimming Against the Storm by Jess Butterworth
This book was a quick yet thrilling tale of a group of children wanting to take action to save their small community from disappearing. The setting I felt in Swimming Against The Storm was one of the most important factors and it was done brilliantly! It felt, at times, like I was smack bang in the middle of the swampy environment amongst all of the alligators, rats, mosquitos and other creatures. It was such a brilliantly devised book and one that I will be recommending to all children.
Did you take part in the Easter Readathon? If so what books did you manage to read?