Happy Pride Month! I hope you are celebrating and spreading the joy of equality and that love is love and has no gender!
To celebrate I thought I would share some LGBTQ+ books that are perfect for reading this summer. Be that by the beach, by the pool or just in your back garden. 
What LGBTQ+ books have you read and loved? Let me know!
LGBTQ+ books that are perfect for summer reading
Proud Book by Various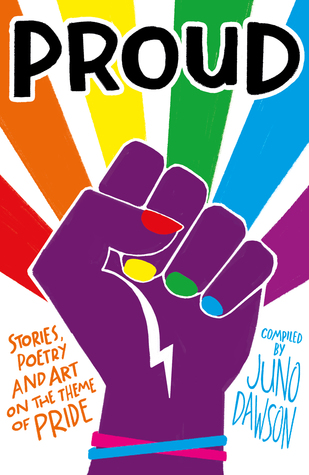 Synopsis:
A stirring, bold and moving anthology of stories and poetry by top LGBTQ+ YA authors and new talent, giving their unique responses to the broad theme of pride. Each story has an illustration by an artist identifying as part of the LGBTQ+ community. Compiled by Juno Dawson, author of THIS BOOK IS GAY and CLEAN.
A celebration of LGBTQ+ talent, PROUD is a thought-provoking, funny, emotional read.
Contributors: Steve Antony, Dean Atta, Kate Alizadeh, Fox Benwell, Alex Bertie, Caroline Bird, Fatti Burke, Tanya Byrne, Moïra Fowley-Doyle, Frank Duffy, Simon James Green, Leo Greenfield, Saffa Khan, Karen Lawler, David Levithan, Priyanka Meenakshi, Alice Oseman, Michael Lee Richardson, David Roberts, Cynthia So, Kay Staples, Jessica Vallance, Kristen Van Dam and Kameron White. 
Why you should read: This is a stunning anthology full of incredible artwork, stories and poetry all related to the theme of Pride. Topics include coming out, gender identity and finding out who you really are. There wasn't a piece of work within the book that I didn't like and I know it's going to be so helpful to young people who are struggling to come to terms with their sexuality or gender identity.
I Was Born For This by Alice Oseman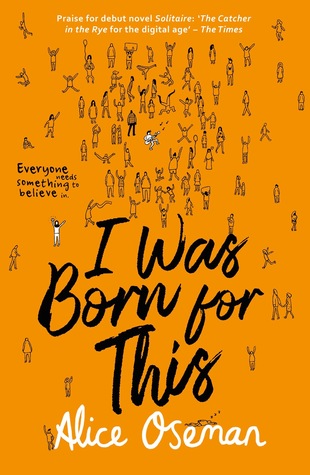 Synopsis: 
For Angel Rahimi, life is only about one thing: The Ark – a pop-rock trio of teenage boys who are currently taking the world by storm. Being part of The Ark's fandom has given her everything – her friendships, her dreams, her place in the world.

Jimmy Kaga-Ricci owes everything to The Ark too. He's their frontman – and playing in a band is all he's ever dreamed of doing. It's just a shame that recently everything in his life seems to have turned into a bit of a nightmare.

Because that's the problem with dreaming – eventually, inevitably, real life arrives with a wake-up call. And when Angel and Jimmy are unexpectedly thrust together, they will discover just how strange and surprising facing up to reality can be.
Why you should read: This read was full of diversity, with different races, religions, gender identities and sexualities within the different characters. It was such a fun read  but it also stood out in the way of tackling important issues. 
Heartstopper Vol 1 by Alice Oseman
Synopsis: 
C
harlie, a highly-strung, openly gay over-thinker, and Nick, a cheerful, soft-hearted rugby player, meet at a British all-boys grammar school. Friendship blooms quickly, but could there be something more…?

Charlie Spring is in Year 10 at Truham Grammar School for Boys. The past year hasn't been too great, but at least he's not being bullied anymore, and he's sort of got a boyfriend, even if he's kind of mean and only wants to meet up in secret.

Nick Nelson is in Year 11 and on the school rugby team. He's heard a little about Charlie – the kid who was outed last year and bullied for a few months – but he's never had the opportunity to talk to him. That is, until the start of January, in which Nick and Charlie are placed in the same form group and made to sit together.

They quickly become friends, and soon Charlie is falling hard for Nick, even though he doesn't think he has a chance. But love works in surprising ways, and sometimes good things are waiting just around the corner…
Why you should read: This was such a cute, uplifting graphic novel about two boys slowly falling in love. I was hooked when I was reading and I finished it with a huge smile on my face. I am really looking forward to volume 2!
Jack of Hearts (and other parts) by Lev A.C Rosen
Synopsis: 
Meet Jack Rothman. He's seventeen and loves partying, makeup and boys – sometimes all at the same time. His sex life makes him 
the 
hot topic for the high school gossip machine. But who cares? Like Jack always says, 'it could be worse'.

He doesn't actually expect that to come true.

But after Jack starts writing an online sex advice column, the mysterious love letters he's been getting take a turn for the creepy. Jack's secret admirer knows everything: where he's hanging out, who he's sleeping with, who his mum is dating. They claim they love Jack, but not his unashamedly queer lifestyle. They need him to curb his sexuality, or they'll force him.

As the pressure mounts, Jack must unmask his stalker before their obsession becomes genuinely dangerous…
Why you should read: If you want a sex positive LGBT novel than this is the one for you! This is unlike any other book based on LGBT themes I have read, and that is mainly due to how open it is about gay sex. I loved the character of Jack and the whole premise of the book was just incredible. 
The Gentleman's Guide to Vice and Virtue by Mackenzie Lee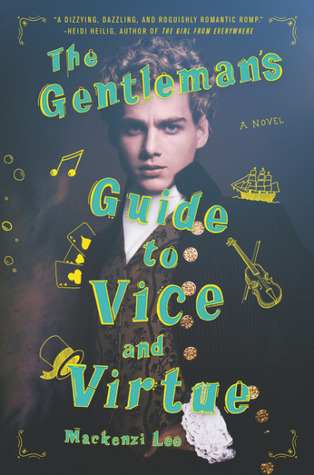 Synopsis: 
Henry "Monty" Montague was born and bred to be a gentleman, but he was never one to be tamed. The finest boarding schools in England and the constant disapproval of his father haven't been able to curb any of his roguish passions—not for gambling halls, late nights spent with a bottle of spirits, or waking up in the arms of women or men.
But as Monty embarks on his Grand Tour of Europe, his quest for a life filled with pleasure and vice is in danger of coming to an end. Not only does his father expect him to take over the family's estate upon his return, but Monty is also nursing an impossible crush on his best friend and traveling companion, Percy.
Still it isn't in Monty's nature to give up. Even with his younger sister, Felicity, in tow, he vows to make this yearlong escapade one last hedonistic hurrah and flirt with Percy from Paris to Rome. But when one of Monty's reckless decisions turns their trip abroad into a harrowing manhunt that spans across Europe, it calls into question everything he knows, including his relationship with the boy he adores.
Why you should read it: Well, this book was one of the strangest, wackiest books I have read in a long time..and that's why I loved it so much. This was a fun, exciting read and one that I am still talking about months after reading it. The romance between Henry and Percy was just adorable and I ship it so hard. Definitely one to read if you love crazy adventures.
If I Was Your Girl by Meredith Russo

Like everyone else, all she wants is to make friends and fit in. But Amanda is holding back. Even from Grant, the guy she's falling in love with.

Amanda has a secret.

At her old school, she used to be called Andrew. And secrets always have a way of getting out.

A book about loving yourself and being loved for who you really are
Why you should read it: This was one of the very first LGBTQ+ books I read and it really did open my eyes and educate me on trans issues. It is such a moving story and one that I am still recommending a few years after reading it. A real eye opening book for sure.