We are literally in the middle of 2019 and I have read 48 books so far, and many of them have been incredible reads!
So, today I want to share with you some of my favourite books of 2019 (so far). I will be doing another one of these posts at the end of the year so it will be nice to look back and see if any of these books are still on the list.
What have been your favourite books of 2019 so far and why?
My favourite books of 2019 (so far)
Outside by Sarah Ann Juckes
Synopsis: Here's the thing about being Inside. Ain't no one believes that they are.
Ele has never been Outside.
She has never seen a tree or felt the rain.
Her whole world is Inside
With her books and the Others and Him.
But here's the secret . . .
Ele's getting out.
Why I loved it: This was a thrilling, heart breaking but also inspirational read all about bravery and following your dreams no matter what is thrown at you. It was unlike any other YA thriller I had read previously and all the twists and turns had me gripped. I found the ending to be extremely shocking and well, I just loved it. 
King of Scars by Leigh Bardugo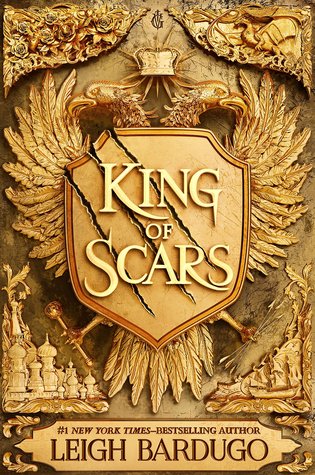 Synopsis: 
Nikolai Lantsov has always had a gift for the impossible. No one knows what he endured in his country's bloody civil war—and he intends to keep it that way. Now, as enemies gather at his weakened borders, the young king must find a way to refill Ravka's coffers, forge new alliances, and stop a rising threat to the once-great Grisha Army.
Yet with every day a dark magic within him grows stronger, threatening to destroy all he has built. With the help of a young monk and a legendary Grisha Squaller, Nikolai will journey to the places in Ravka where the deepest magic survives to vanquish the terrible legacy inside him. He will risk everything to save his country and himself. But some secrets aren't meant to stay buried—and some wounds aren't meant to heal.
Why I loved it: Well, it was pretty obvious that this was going to be on the list as I am complete trash for Leigh Bardugo. King of Scars was just pure perfection. It was amazing to be back in the Grishaverse again and I literally couldn't stop reading. Leigh's writing is just so captivating and beautiful and ahhh! I just can't get enough of it. The ending had me physically gasping and I just need the second one now!!
Two Can Keep A Secret by Karen M. McManus
Synopsis: 
Ellery's never been to Echo Ridge, but she's heard all about it. It's where her aunt went missing at age sixteen, never to return. Where a Homecoming Queen's murder five years ago made national news. And where Ellery now has to live with a grandmother she barely knows, after her failed-actress mother lands in rehab. No one knows what happened to either girl, and Ellery's family is still haunted by their loss.
Malcolm grew up in the shadow of the Homecoming Queen's death. His older brother was the prime suspect and left Echo Ridge in disgrace. His mother's remarriage vaulted her and Malcolm into Echo Ridge's upper crust, but their new status grows shaky when mysterious threats around town hint that a killer plans to strike again. No one has forgotten Malcolm's brother-and nobody trusts him when he suddenly returns to town
Ellery and Malcolm both know it's hard to let go when you don't have closure. Then another girl disappears, and Ellery and Malcolm were the last people to see her alive. As they race to unravel what happened, they realize every secret has layers in Echo Ridge. The truth might be closer to home than either of them want to believe.
And somebody would kill to keep it hidden.
Why I loved it: 2019, so far has been great for YA Crime and Two Can Keep A Secret is one of the reasons why. One Of Us Is Lying was good but this was on an another level. The way Karen writes and tells the story is so endearing and makes you just want to read on and on. The plot was so suspenseful and I had no idea who the killer was! It's a heart-stopping, intense YA crime novel that is for sure.
Potkin and Stubbs by Sophie Green
Synopsis: In the corrupt metropolis of Peligan City, Lil Potkin, a determined young reporter, is on the lookout for a scoop. One rainy night she meets Nedly, the ghost of a boy that no one else can see. Nedly has been looking for someone to believe in him ever since the investigation into his disappearance went cold. When they discover that his death is connected to a series of mysterious murders, Lil and Nedly set out to expose those responsible, with the help of a down-on-his luck private investigator, who might hold a clue to Lil's hidden past.

Atmospheric, spooky, warm at heart, POTKIN AND STUBBS is the first in a hardboiled detective trilogy for readers aged 9+
Why I loved it: Potkin and Stubbs was my first foray into MG Mystery and it certainly won't be the last. It was just incredible! The noir setting of Peligan City was pure genius and I found myself loving the duo of Lil Potkin and Nedly Stubbs almost straight away – it was as if they were a mini version of Sherlock Holmes and Dr John Watson. Sophie has created an amazing world and I am buzzing for book two in the series.
The Golden Butterfly by Sharon Gosling
Synopsis: 
The Golden Butterfly danced in the air, beautiful and impossible, yet there before their eyes. Then The Magnificent Marko flicked his wand again. There was a shower of sparks, a bang and … The Golden Butterfly vanished.
It's 1897 and since The Magnificent Marko dramatically departed the stage, no magician has come close to performing a trick as spectacular as The Golden Butterfly. With her grandfather gone, Luciana feels that the world has lost its wonder. Then the imposing leader of the Grand Society of Magicians appears, searching for something belonging to Marko, and Luciana is drawn into a world of danger and deception. As she battles to protect her grandfather's greatest legacy, can she distinguish reality from illusion?
Why I loved it: This was just an entrancing, magical, stunning piece of MG fiction that I was enchanted by. The historical and feminist elements to the book are what made it appeal to me so much, along with the magic and mystery of course. I am honestly still mesmerised by this book and I read it back in April. 
The Girl Who Came Out Of The Woods by Emily Barr
Synopsis: 
Arty has always lived in the Clearing, a small settlement in the forests of south India. But their happy life, hidden from the rest of the world, is shattered by a terrible accident. For the first time in her sixteen years, Arty must leave the only place she's ever known, into the outside world she's been taught to fear.

Her only goal is to get help from a woman called Tania, who used to live in the forest, and the Uncle she knows is out there, somewhere. As she embarks on the terrifying journey, pursued by an enemy she can't fathom, Arty soon realises that not everyone is to be trusted. She's looking for answers, but what she'll learn from Tania and Uncle Matthew is a shocking truth about her past.

Everything is changing too fast for this girl who came out of the woods, and is she running into a trap…?
Why I loved it: The Girl Who Came Out Of The Woods is probably my favourite book by Emily Barr and I have read all of her YA work. This was such a unique, gripping read with many twists and turns added for good measure. The dual narrative within the book had me on the edge of my seat for many reasons (no spoilers here!) and it was highly adrenaline pumping. I urge you all to read it!
Summer of No Regrets by Kate Mallinder
One summer
No regrets

Four friends pledge to make their summer regret-free but will it be that simple?
After their exams, sixteen-year-old friends Sasha, Hetal, Nell and Cam pledge to live a summer regret-free, taking risks however much it scares them.
As all these choices become difficult, even dangerous, they will need each other for the strength to face the future.
A diverse, feel-good story of friendship, irresistibly escapist.
Why I loved it: This debut brought me such joy when I was reading it. It's a short, sweet, quick read but that doesn't deter from the fact that it is so wonderful. The plot was unique and very easy to follow and understand and the characters are all so lovable in their own ways. This is easily the perfect book to get you into a summery vibe.
A Good Girl's Guide to Murder by Holly Jackson
Synopsis: 
The case is closed. Five years ago, schoolgirl Andie Bell was murdered by Sal Singh. The police know he did it. Everyone in town knows he did it.

But having grown up in the same small town that was consumed by the murder, Pippa Fitz-Amobi isn't so sure. When she chooses the case as the topic for her final year project, she starts to uncover secrets that someone in town desperately wants to stay hidden. And if the real killer is still out there, how far will they go to keep Pip from the truth?
Why I loved it: Another book in the YA Crime genre that I devoured in a few days. A Good Girl's Guide to Murder had a lot of hype surrounding it and for a very good reason…it was purely brilliant! The whole mystery within this book had me hooked and I just couldn't wait to find out who did it! Most of the time with crime books in YA I tend to guess who the murderer is but with this book I didn't and let me tell you it was a big shock when it was revealed. An outstanding debut and I am excited to read what Holly brings out next.