This week (18th – 24th) is Mental Health Awareness Week in UK. It's hosted by the Mental Health Foundation and this years theme is kindness.
Mental Health is such an important topic, and especially in this time of uncertainty we need to be looking after our own mental wellbeing as well as looking out for others. As someone who suffers from anxiety I know how important this is.
So to mark this important week I'm going to be doing a few posts featuring mental health as a topic. First up I'm going to be sharing some middle grade books that featuring mental health within them. Having this issue spoken about in middle grade is so important in helping children talk about their feelings and any issues they may be facing.
The Goldfish Boy by Lisa Thompson
Matthew Corbin suffers from severe obsessive-compulsive disorder. He hasn't been to school in weeks. His hands are cracked and bleeding from cleaning. He refuses to leave his bedroom. To pass the time, he observes his neighbours from his bedroom window, making mundane notes about their habits as they bustle about the cul-de-sac.

When a toddler staying next door goes missing, it becomes apparent that Matthew was the last person to see him alive. Suddenly, Matthew finds himself at the centre of a high-stakes mystery, and every one of his neighbours is a suspect. Matthew is the key to figuring out what happened and potentially saving a child's life… but is he able to do so if it means exposing his own secrets, and stepping out from the safety of his home?
A Library of Lemons by Jo Cotterill
Calypso's mum died a few years ago and her emotionally incompetent Dad can't, or won't, talk about Mum at all. Instead he throws himself into writing his book A History of the Lemon. Meanwhile the house is dusty, there's never any food in the fridge, and Calypso retreats into her own world of books and fiction.
When a new girl, Mae, arrives at school, the girls' shared love of reading and writing stories draws them together. Mae's friendship and her lively and chaotic home – where people argue and hug each other – make Calypso feel more normal than she has for a long time. But when Calypso finally plucks up the courage to invite Mae over to her own house, the girls discover the truth about her dad and his magnum opus – and Calypso's happiness starts to unravel.
Wonder by R.J. Palacio
August Pullman wants to be an ordinary ten-year-old. He does ordinary things. He eats ice cream. He plays on his Xbox. He feels ordinary – inside.
But Auggie is far from ordinary. Ordinary kids don't make other ordinary kids run away screaming in playgrounds. Ordinary kids don't get stared at wherever they go.
Born with a terrible facial abnormality, Auggie has been home-schooled by his parents his whole life, in an attempt to protect him from the cruelty of the outside world. Now, for the first time, he's being sent to a real school – and he's dreading it. All he wants is to be accepted – but can he convince his new classmates that he's just like them, underneath it all?
A Bad Day for Jayden by Tony Bradman
Jayden's having a hard time. His mum seems really sad and won't get out of bed. He's fallen out with his best friend and he's struggling to keep up at school. He wants to do the right thing, but it's difficult when it feels like everything is going wrong. When Miss Wilson turns up at Jayden's school, she's not sure if she wants to be a teacher any more but can she and Jayden help each other and turn this bad day around?
Guts by Raina Telgemeier
Raina wakes up one night with a terrible upset stomach. Her mom has one, too, so it's probably just a bug. Raina eventually returns to school, where she's dealing with the usual highs and lows: friends, not-friends, and classmates who think the school year is just one long gross-out session. It soon becomes clear that Raina's tummy trouble isn't going away… and it coincides with her worries about food, school, and changing friendships. What's going on?
Where the Watermelons Grow by Cindy Baldwin
When twelve-year-old Della Kelly finds her mother furiously digging black seeds from a watermelon in the middle of the night and talking to people who aren't there, Della worries that it's happening again—that the sickness that put her mama in the hospital four years ago is back. That her mama is going to be hospitalised for months like she was last time.
With her daddy struggling to save the farm and her mama in denial about what's happening, it's up to Della to heal her mama for good. And she knows just how she'll do it: with a jar of the Bee Lady's magic honey, which has mended the wounds and woes of Maryville, North Carolina, for generations.
But when the Bee Lady says that the solution might have less to do with fixing Mama's brain and more to do with healing her own heart, Della must learn that love means accepting her mama just as she is.
The Bubble Boy by Stewart Foster
Eleven-year-old Joe can't remember a life outside of his hospital room, with its beeping machines and view of London's rooftops. His condition means he's not allowed outside, not even for a moment, and his few visitors risk bringing life-threatening germs inside his 'bubble'. But then someone new enters his world and changes it for ever.
THE BUBBLE BOY is the story of how Joe spends his days, copes with his loneliness and frustrations, and looks – with superhero-syle bravery, curiosity and hope – to a future without limits. Expect superheroes, super nurses and a few tears from this truly unique story.
The Science of Breakable Things by Tae Keller
When Natalie's science teacher suggests that she enter an egg drop competition, Natalie thinks that this might be the perfect solution to all of her problems. There's prize money, and if she and her friends wins, then she can fly her botanist mother to see the miraculous Cobalt Blue Orchids–flowers that survive against impossible odds. Natalie's mother has been suffering from depression, and Natalie is sure that the flowers' magic will inspire her mom to love life again. Which means it's time for Natalie's friends to step up and show her that talking about a problem is like taking a plant out of a dark cupboard and giving it light. With their help, Natalie begins an uplifting journey to discover the science of hope, love, and miracles.
Some Kind of Happiness by Claire LeGrand
THINGS FINLEY HART DOESN'T WANT TO TALK ABOUT
• Her parents, who are having problems. (But they pretend like they're not.)
• Being sent to her grandparents' house for the summer.
• Never having met said grandparents.
• Her blue days—when life feels overwhelming, and it's hard to keep her head up. (This happens a lot.)
Finley's only retreat is the Everwood, a forest kingdom that exists in the pages of her notebook. Until she discovers the endless woods behind her grandparents' house and realizes the Everwood is real–and holds more mysteries than she'd ever imagined, including a family of pirates that she isn't allowed to talk to, trees covered in ash, and a strange old wizard living in a house made of bones.
With the help of her cousins, Finley sets out on a mission to save the dying Everwood and uncover its secrets. But as the mysteries pile up and the frightening sadness inside her grows, Finley realizes that if she wants to save the Everwood, she'll first have to save herself.
The Illustrated Mum by Jacqueline Wilson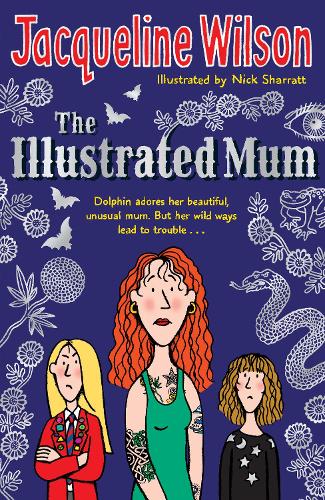 Dolphin adores Marigold, her beautiful, vibrant mother.
She's not like the other mums.

She has vivid tattoos all over her body, bright hair and wonderful clothes.
But Dolphin's sister, Star, feels differently.
Marigold may look amazing, but living with her fiery, unpredictable moods can be hard.
As much as the girls love Marigold, is she the right person to be looking after them?