Happy September! Summer is drawing to a close and autumn is coming and I for one can't wait for it to hit. September is also a month of some amazing books releases and I'm going to be sharing some that you need to add to your TBR.
What books are you looking forward to reading this month?
Punching The Air by Ibi Zoboi and Yusef Salaam
Released On: 1st September
From award-winning, bestselling author Ibi Zoboi and prison reform activist Yusef Salaam of the Exonerated Five comes a powerful YA novel in verse about a boy who is wrongfully incarcerated. Perfect for fans of the Noughts & Crosses series and The Hate U Give.
One fateful night, an altercation in a gentrifying neighbourhood escalates into tragedy. 'Boys just being boys' turns out to be true only when those boys are white. 
 
Suddenly, at just sixteen years old, Amal Shahid's bright future is upended: he is convicted of a crime he didn't commit and sent to prison. Despair and rage almost sink him until he turns to the refuge of his words, his art. This never should have been his story. But can he change it? 
 
With spellbinding lyricism, award-winning author Ibi Zoboi and prison reform activist Yusef Salaam tell a moving and deeply profound story about how one boy is able to maintain his humanity and fight for the truth, in a system designed to strip him of both.
Kidnap on the California Comet by M.G. Leonard and Sam Sedgman
Released On: 3rd September
Board the California Comet and help Harrison Beck to solve another heart-stopping mystery in the second Adventures on Trains story, Kidnap on the California Comet, from bestselling authors M.G. Leonard and Sam Sedgman.
After the excitement of his adventures aboard the Highland Falcon Thief, Harrison Beck can't wait for the opportunity to go on another amazing train journey. So when his Uncle Nat invites him aboard the California Comet, the iconic three-day train journey from Chicago to San Francisco, he leaps at the chance to travel. But when the daughter of billionaire entrepreneur August Reza goes missing en route, Hal finds himself with another mystery to solve. Can he uncover the kidnapper before the journey's end?
An adrenaline-fuelled journey across America from bestselling authors M.G. Leonard and Sam Sedgman in the second mystery adventure in the major Adventures on Trains series.
Majesty by Katharine McGee
Released On: 3rd September
The New York Times bestselling series returns! Your favourite royal family are back for another thrilling instalment of gossip, drama and romance . . .
Beatrice Washington now rules America as its first ever queen, but her family are more concerned about rushing through her arranged marriage to a man she barely knows. No one can know that her heart really belongs to her bodyguard – but even their love is under threat.
Meanwhile, Princess Samantha is under more scrutiny than ever before – and she still longs to be with her sister's fiancee. But with no sign of Bea's wedding being called off, she's surprised to find someone else catching her eye.
Nina Gonzalez is also tangled up with someone she never expected to be. She and Ethan are both nursing broken hearts, and it's not long before they find themselves pulled irresistibly together.
Luckily for Daphne Deighton, Prince Jeff's grief for his father makes him a prime target for her attentions. She's the closest she's been in years to getting what she wants . . . so why can't she let the idea of her and Ethan go?
As the royal wedding of the century creeps ever closer, will these four young women get what they want – or will their hearts be broken forever?
The Cheerleaders by Kara Thomas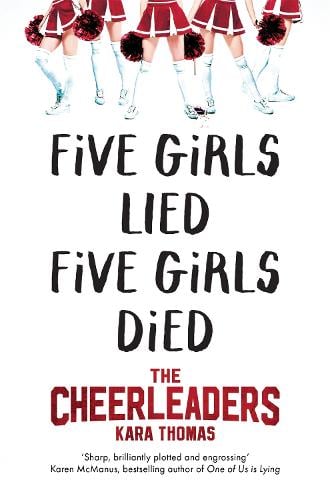 Released On: 3rd September
There are no more cheerleaders in the town of Sunnybrook.
First there was the car accident – two girls dead after hitting a tree on a rainy night. 
Then the murders happened – two girls were killed by the man next door. The police shot him, so no one will ever know why he did it. 
Monica's sister was the last cheerleader to die. After her suicide, Sunnybrook High disbanded the cheer squad. No one wanted to be reminded of the girls they'd lost.
That was five years ago. Now the faculty and students at Sunnybrook High want to remember the lost cheerleaders. But for Monica, it's not that easy. 
Her world is starting to unravel. After she discovers the letters in her stepdad's desk, unearths an ancient phone, and meets a strange new friend at school, Monica can't just move on. 
Whatever happened five years ago isn't over. People know more than they're letting on and somehow, Monica is at the center of it all.
There are no more cheerleaders in Sunnybrook, but that doesn't mean anyone else is safe.
Lies Like Poison by Chelsea Pitcher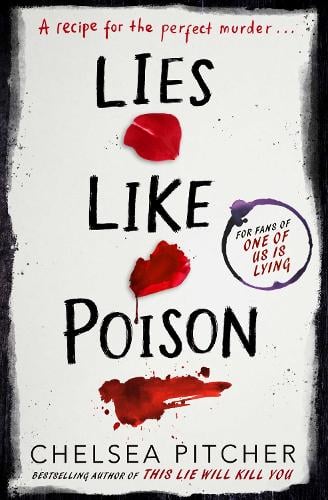 Released On: 3rd September
The recipe for the perfect murder…
Poppy, Lily, and Belladonna would do anything to protect their best friend, Raven. So when they discovered he was suffering abuse at the hands of his stepmother, they came up with a lethal plan: petals of poppy, belladonna, and lily in her evening tea so she'd never be able to hurt Raven again. But someone got cold feet, the plot faded to a secret of the past, and the group fell apart.
Three years later, on the eve of Raven's seventeenth birthday, his stepmother turns up dead. But it's only belladonna found in her tea, and it's only Belladonna who's carted off to jail.
Desperate for help, Belle reaches out to her estranged friends to prove her innocence, but who can she trust? Someone is lying and when the tangled web of secrets and betrayal is finally unwound, what lies at its heart will change the group forever.
The Inheritance Games by Jennifer Lynn Barnes
Released On: 3rd September
An utterly addictive and twisty thriller, full of dark family secrets and deadly stakes. Perfect for fans of One of Us is Lying and Knives Out.
She came from nothing.
Avery has a plan: keep her head down, work hard for a better future.
Then an eccentric billionaire dies, leaving her almost his entire fortune. And no one, least of all Avery, knows why.
They had everything.
Now she must move into the mansion she's inherited.
It's filled with secrets and codes, and the old man's surviving relatives –
a family hell-bent on discovering why Avery got 'their' money.
Now there's only one rule: winner takes all.
Soon she is caught in a deadly game that everyone in this strange family is playing.
But just how far will they go to keep their fortune?
The Life of Riley: Beginner's Luck by Simon James Green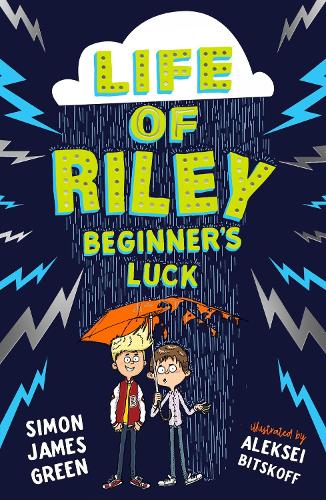 Released On: 3rd September
Riley is cursed. No, really! After a fairground incident – TOTALLY not his fault – bad luck follows Riley everywhere, causing disaster after disaster. It's got so bad that no one wants to go near Riley, including his teachers! But when new student Brad Chicago shows up, Riley quickly realizes that Brad is the human equivalent of a good luck charm. Can Brad's good luck cancel out Riley's bad luck? Or is this yet another recipe for disaster?
The Haunting of Aveline Jones by Phil Hickes
Released On: 17th September
Turn on your torches and join Aveline Jones!
Aveline loves reading ghost stories, so a dreary half-term becomes much more exciting when she discovers a spooky old book. Not only are the stories spine-tingling, but it belonged to a girl called Primrose Penberthy, who vanished mysteriously, never to be seen again. Intrigued, Aveline decides to investigate Primrose's disappearance, with some help from her new friend, Harold.
Now someone…or something, is stirring. And it is looking for Aveline. 
Love Frankie by Jacqueline Wilson
Released On: 17th September
GROWING UP. FALLING IN LOVE. COMING OUT.
Frankie is nearly fourteen and teenage life certainly comes with its ups and downs. Her mum is seriously ill with MS and Frankie can feel herself growing up quickly, no thanks to Sally and her gang of bullies at school.
When Sally turns out to be not-so-mean after all, they strike up a friendship and are suddenly spending all of their time together.
But Frankie starts to wonder whether these feelings she has for Sally are stronger than her other friendships. Might she really be in love?
Frankie doesn't want Sally to just be her friend. She wants her to be her girlfriend. But does Sally feel the same?
The must-have new novel about falling in love for the first time from bestselling, much-loved children's author, Jacqueline Wilson.
A Deadly Education by Naomi Novik
Released On: 29th September
In the start of an all-new series, the bestselling author of Uprooted and Spinning Silver introduces you to a dangerous school for the magically gifted where failure means certain death – until one girl begins to rewrite its rules.
Enter a school of magic unlike any you have ever encountered.
There are no teachers, no holidays, friendships are purely strategic, and the odds of survival are never equal.
Once you're inside, there are only two ways out: you graduate or you die.
El Higgins is uniquely prepared for the school's many dangers. She may be without allies, but she possesses a dark power strong enough to level mountains and wipe out untold millions – never mind easily destroy the countless monsters that prowl the school.
Except, she might accidentally kill all the other students, too. So El is trying her hardest not to use it… that is, unless she has no other choice.
Wry, witty, endlessly inventive, and mordantly funny – yet with a true depth and fierce justice at its heart – this enchanting novel reminds us that there are far more important things than mere survival.