The Last Bear by Hannah Gold
Published By: Harper Collins Children's
Released: 18th February 2021
CAWPILE Rating: 8.6 / 4 ★
I received this book free from the publisher in exchange for an honest review.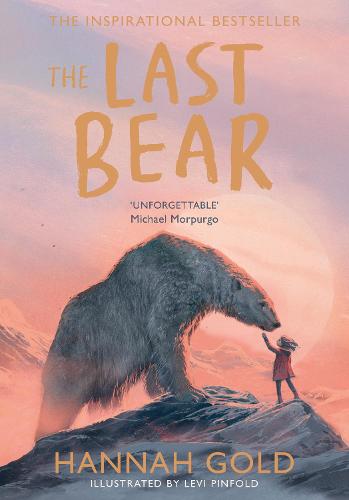 Synopsis
There are no polar bears left on Bear Island. At least, that's what April's father tells her when his scientific research takes them to this remote Arctic outpost for six months. But one endless summer night, April meets one. He is starving, lonely and a long way from home. Determined to save him, April begins the most important journey of her life…

This moving story will win the hearts of children the world over and show them that no one is too young or insignificant to make a difference. The Last Bear is a celebration of the love between a child and an animal, a battle cry for our world and an irresistible adventure with a heart as big as a bear's.
Amy's Thoughts
The Last Bear was a book that I hadn't even heard of before I received a gorgeous proof copy in the post unexpectedly. However, after reading the synopsis I was instantly intrigued and longed to know more about this adventure of one young girl and one polar bear. I had a feeling that I was going to be entranced and captivated by this tale, and well my hindsight was right.
The Last Bear follows April, as she and her father are sent to Bear Island in the Arctic for six months, whilst her father works on his scientific research. April jumps at the chance to live in this remote area of the world with no school and an incredible space to explore. One night, when exploring April comes across a single, lonely Polar Bear, but that can't be right as there are no bears on Bear Island? This Polar Bear is starving and a long way from home. Knowing she needs to do best for him, April sets out a plan to return him to his own kind for good.
Well, this was such a moving, emotional read that tugged on my heartstrings several times throughout reading. I was instantly mesmerised by this tale of courage, friendship and love and honestly didn't want it to end. Everything about it was stunning, from the writing to the story and characters, and I was enchanted. I feel that this book will not only captivate an audience of children but also adults, as it carries such an important message.
The message of climate change and environmentalism is prominent within The Last Bear and is a message that we need to start taking seriously. April is a strong lover of nature and feels a strong connection to animals, and she's on her way to becoming a true environmental activist and I feel that any child who reads this will find some source of inspiration from April, and her determination to save the planet. Plot-wise, we are taken on an adventure with April and Bear as they work together to help him get back home and back to his own kind. You are taken on a fast-paced journey with them, and there are times where your heart starts to race, and you wonder if they will make it to their final destination. For quite a short book you are taken on such a ride, and you won't want to get off.
The relationship between April and Bear was heartwarming and tender and brought a tear to my eye a few times. April is automatically drawn to him, and her patience in getting to know him pays off as their friendship blossoms. Bear obviously cannot speak, but the way his character is written through movement and body language help us to understand his personality, and I for one am in awe of how well the author did this. We do understand that he cares for April, just like she cares for him, and how important her friendship is to him. If I'm being honest, I haven't seen a purer friendship in a book, like this one for a while and it's truly refreshing.
The Last Bear was a breathtaking, gorgeous read all about love, friendship, and standing up for what you believe in. This is such an influential book, that is sorely needed in these times.