It's been a while since I've done an anticipated releases list, but as I'm trying to get back into posting more content on Amy's Bookish Life, I thought I would start it back up, starting with March.
There are some amazing books being released in March, that I'm looking forward to picking up and diving into. Are any of my picks on your lists?
Mort the Meek and the Ravens' Revenge by Rachel Delahaye
Released: 4th March
Published By: Little Tiger
The first in a wickedly funny new series about an aspiring pacifist in a brutal kingdom!
On Brutalia violence is a way of life. Ravenous ravens circle overhead, monstrous grot bears cause chaos and the streets are bulging with brawls. But Mort isn't like the other islanders – he's determined to live peacefully. His struggle is made even tougher when the cruel queen appoints Mort as Royal Executioner. No one has challenged the royals and lived to tell the tale. Can Mort keep his head and outwit the queen?
The World Between Us by Sarah Ann Jukes
Released: 4th March
Published by: Penguin
Alice may be bed-bound, but that doesn't stop her from going outside. Every day, she logs into Stream Cast and experiences the outside world by watching other people live wonderful and exciting lives.
But when one of the streamers is killed in a cycle accident, Alice is introduced to a new streamer.
Rowan sees beauty in the everyday and encourages her to stop watching, and start taking control. But Rowan too has a secret he's trying to hide from Alice – and from himself.
As Alice and Rowan build a bigger and more beautiful world together, outside forces threaten to bring this new world to an end.
All Boys Aren't Blue by George M. Johnson
Released: 4th March
Published By: Penguin
This powerful YA memoir-manifesto follows journalist and LGBTQ+ activist George M. Johnson as they explore their childhood, adolescence, and college years, growing up under the duality of being black and queer. From memories of getting their teeth kicked out by bullies at age five to their loving relationship with their grandmother, to their first sexual experience, the stories wrestle with triumph and tragedy and cover topics such as gender identity, toxic masculinity, brotherhood, family, inequality, consent, and Black joy.
Plain Bad Heroines by Emily M. Danforth
Released: 4th March
Published By: The Borough Press
1902, Brookhants School for Girls: students Flo and Clara are madly in love with each other, as well as completely obsessed with The Story of Mary MacLane, the scandalous debut memoir by 19 year old MacLane. A few months later they are found dead in the woods, after a horrific wasp attack, the book lying next to their intertwined bodies. Within five years the school is closed. But not before three more people die on the property, each in a troubling way.
Over a hundred years later, Brookhants opens its doors once more, when a crew of young actresses arrive to film a high-profile movie about the rumoured Brookhants curse. And as past and present become grimly entangled, it's soon impossible to tell quite where the curse leaves off and Hollywood begins…
The Weather Weaver by Tamsin Mori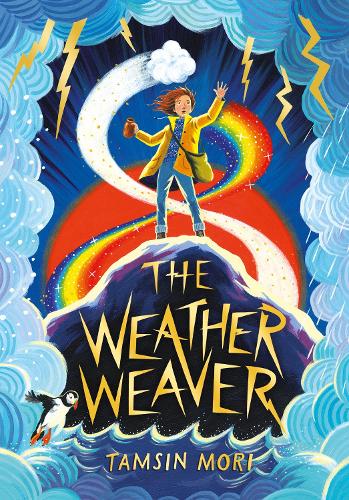 Released: 4th March
Published By: UCLan Publishing
What if you could befriend a cloud? What weather would you choose? What if the weather matched itself to your mood, whether you wanted it to, or not?
11-year-old Stella has returned home to Shetland to spend the summer with her Grandpa, but it's nothing like she remembers. Grandpa is lost in his grief for Gran, the island is bleak and Stella feels trapped, until she encounters an old woman, Tamar, who can spin rainbows and call hurricanes.
With the help of Nimbus, a feisty young storm cloud, Stella begins to learn the craft of weather weaving. But when her cloud brain-fogs Grandpa and The Haken (a sea witch) starts to close in, she realises that magic comes with big responsibilities. It will take all her heart and courage to face the coming storm…
The Weather Weaver is essentially a Moana tale for Shetland; a coming of age story, intertwined with island myths and hidden magic. At its heart, the novel tackles the following themes: independence, the meaning of home, and the fallibility of grown-ups.
Perfect on Paper by Sophie Gonzalez
Released: 11th March
Published By: Hachette Children's
Darcy Phillips:
Can give you the solution to any of your relationship woes – for a fee.
Uses her power for good. Most of the time.
Really cannot stand the new Australian jock at school, Alexander Brougham.
Has maybe not the best judgement when it comes to her best friend, Brooke…who is in love with someone else.
Does not appreciate being blackmailed.
But when Brougham catches Darcy in the act of collecting letters from locker 89 – out of which she's been running her questionably legal, anonymous relationship advice service – that's exactly what happens. In exchange for keeping her secret, Darcy begrudgingly agrees to become his personal dating coach. The goal? To help him win his ex-girlfriend back.
Darcy has good reason to keep her identity secret. If word gets out that she's behind the locker, some things she's not proud of will come to light, and there's a good chance Brooke will never speak to her again.
Okay, so all she has to do is help an entitled, bratty, (annoyingly hot) guy win over a girl who's already fallen for him once? What could possibly go wrong?
Rule of Wolves by Leigh Bardugo
Released: 30th March
Published By: Orion Children's Books
The wolves are circling and a young king will face his greatest challenge in the explosive finale of the instant #1 New York Times-bestselling King of Scars Duology.
The Demon King. As Fjerda's massive army prepares to invade, Nikolai Lantsov will summon every bit of his ingenuity and charm – and even the monster within – to win this fight. But a dark threat looms that cannot be defeated by a young king's gift for the impossible.
The Stormwitch. Zoya Nazyalensky has lost too much to war. She saw her mentor die and her worst enemy resurrected, and she refuses to bury another friend. Now duty demands she embrace her powers to become the weapon her country needs. No matter the cost.
The Queen of Mourning. Deep undercover, Nina Zenik risks discovery and death as she wages war on Fjerda from inside its capital. But her desire for revenge may cost her country its chance at freedom and Nina the chance to heal her grieving heart.
King. General. Spy. Together they must find a way to forge a future in the darkness. Or watch a nation fall.