Thank you to Usborne for allowing me to be part of this blog tour.
The Bewitching of Aveline Jones by Phil Hickes
Published By: Usborne
Released: 16th September 2021
CAWPILE Rating: 7.9 / 4 ★
I received this book free from Netgalley in exchange for an honest review.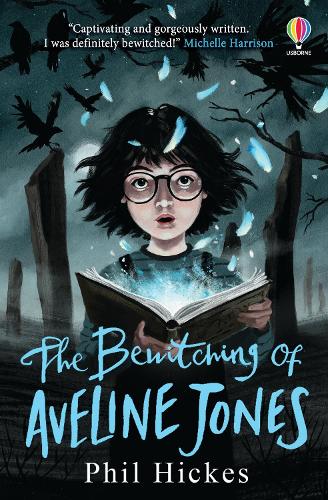 Synopsis
Turn on your torches and join Aveline Jones!

Aveline is thrilled when she discovers that the holiday cottage her mum has rented for the summer is beside a stone circle. Thousands of years old, the local villagers refer to the ancient structure as the Witch Stones, and Aveline cannot wait to learn more about them.

Then Aveline meets Hazel. Impossibly cool, mysterious yet friendly, Aveline soon falls under Hazel's spell. In fact, Hazel is quite unlike anyone Aveline has ever met before, but she can't work out why. Will Aveline discover the truth about Hazel, before it's too late?

Join the world of Aveline Jones, where mysteries are solved, spirits are laid to rest, and everybody gets to bed on time. 
Amy's Thoughts
Aveline Jones is on a summer holiday with her mum, renting a holiday cottage in the village of Norton Wick. Aveline is thrilled to discover that next to their cottage is a stone circle, which the locals refer to as The Witch Stones and Aveline cannot wait to learn about them and discover their secrets. Soon, she meets the mysterious Hazel who soon has Aveline under her spell. Hazel is unique and unlike anyone, Aveline has met before, but she can't work out why this is. Shortly after meeting Hazel, Aveline sets out to discover the truth about her, before it's too late.
I read The Haunting of Aveline Jones last year and absolutely loved it, so I was highly excited to read the second book in the series – The Bewitching of Aveline Jones. I certainly had high hopes when going into this sequel, and well, I certainly wasn't disappointed. If you love creepy, terrifying Middle Grade horror, then this is a book for you..
Well, this was a quick, spooky, hair-raising read that I devoured in one sitting. It captured the creepiness and sinister vibes that you want from reading a book during this time of year. I felt unsettled at times, whilst reading, and I had to look around to make sure no one was watching me. The Bewitching of Aveline Jones brought chills to my spine and caused goosebumps to form on my arms. You don't want to be reading this book in the dark, let me tell you that.
The setting of Norton Wick added to the chilling narrative, and from the get-go, you got the feeling something was amiss in this small village. This, in turn, made the whole atmosphere of the overall story just that bit more chilling. The village which is steeped in paganism had links to witchcraft and I found the overall concept of The Witch Stones to be fascinating and I found myself absorbed in Aveline and Harold's attempts to learn more about them. I was also stunned to find out that they were based on a real stone circle in Stanton Drew. I do love it when authors base their fictional work on things they discover in reality, so I commend Phil for this. Plot-wise I was intrigued by Hazel and the mystery surrounding her, and Aveline's attempts to uncover any secrets. The plot is fast-paced and this keeps successively keeps you so hooked, that you don't want to put the book down.
Aveline, I feel was a more rounded character in The Bewitching of Aveline Jones, and this may be because we know what her personality is like from reading the first book. She had that spark of adventure and curiosity about her, mixed in with bravery and determination. Her friendship with Harold was also a lot stronger and they are such a perfect duo. I'm looking forward to more adventures featuring the two of them. Hazel, well I found disliking her from the moment I was introduced to her, but I think this may have been intentional. However, as I got further on into the story I started to understand why she was acting the way she did. It was also great to have the original characters from the first book back. It was amazing to see Aunt Lillian and the eccentric Mr Liberman back, and I do hope they are back for more adventures in future books.
The Bewitching of Aveline Jones is the perfect book for the spooky season. It's terrifying, chilling, and suspenseful all rolled into one. In my opinion, it's just that bit better than the first book, and I am so excited to read more of Aveline's adventures in the hopefully near future.